International Moving Services
Get Your Free Fast Quote!
Professional International Movers at Von Paris
The planning of an international relocation requires a significant time and energy commitment. Before the move, there must be at least two to three months of planning and preparation. Customers are highly encouraged to carefully plan their international move and do extensive research on reputable international moving companies to help with the move. Von Paris has a long-standing reputation as a top-rated moving company, and our international movers can handle your move with excellent customer service and quality moving services.
Let Us Coordinate Your Next International Move
To handle customs clearance and transportation of your items, Von Paris Moving and Storage has solid business relationships with moving companies all over the world. As a result, we can deliver your belongings promptly and safely to any location in the world. Our international movers are skilled at moving people to destinations worldwide, and we also handle the process with the utmost professionalism, care, and safety.
Contact us today for your international moving needs. We are here to guide your next move!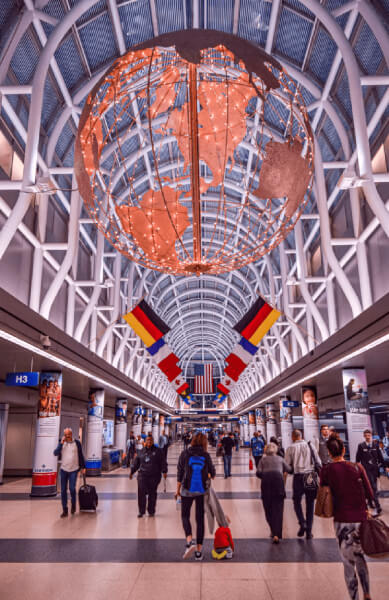 Learn About International Moving From Expats!
Passports
Visas
Inoculation records
Important shipping information including the international mover's name and address, your container number, number of units and seal numbers
Container ship's departure date and its expected arrival date
Cash and credit cards
Learn about what mistakes to avoid with international moving
Use our free international moving checklist to assist you with your International Move!
Von Paris is THE. BEST. From the sales rep assessing our stuff, to the move to storage and back to our new home, everything went so smoothly. Hopefully we are in our forever home and won't have to move again, but if we do have to move, we will definitely use this company.
Judy and the rest of the Von Paris team were great to work with from start to finish. Judy was responsive and extremely helpful in helping us figure out our needs. The delivery team was super friendly and fast. We cannot wait to continue using them.
I contacted Von Paris about our move from a home into an apartment. From the person who answered the phone all the way to the end of the move… they were all excellent. I can't say enough good things about this company. The three guys that moved our stuff were considerate to our things. They moved the stuff that was marked fragile with kid gloves. I would hire them again in a heart beat.